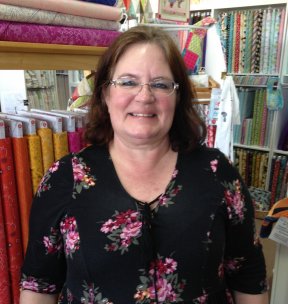 Lorie joined the staff in August 2018. She has 3 daughters and 4 granddaughters, so plenty of family to sew for. Both of her grandmothers sewed, and one worked for Singer. Her mother made many of her clothes, and Lorie learned to sew at a "much" younger age. She has always enjoyed being creative. Around the shop, we appreciate her skill with wool and embroidery.
Laura Lee joined the staff in August 2018. She has learned to quilt and sew while here, and finished her Christmas tree quilt before the holidays. Her favorite color is purple. She knows American Sign Language and signed
The Star Spangled Banner
at a Special Olympics Event. She enjoys bowling and hanging out with friends and family.
Lisa joined the staff in September 2018. She has sewn and crafted
many
years for her family and home, from costumes, clothing, simple quilts, embroidery, and home decor. She enjoys reading and flower gardening and spending time with her 3 grandchildren. She lives in Nelson County with her husband, youngest son, an anxious dog and a demanding cat.