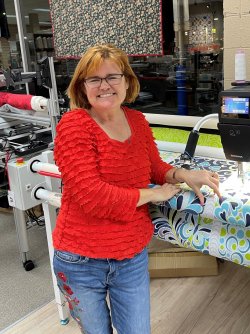 Sandra has been quilting, sewing, and knitting for40 years. Small projects for family and friends are her specialty, keeping her creative during her husbands Army career that took them to Germany twice, Korea, and six different states! She is the mother of five children, who are now grown, and grandmother of 4, including the newest addition in New Zealand!
Andrea began working in November 2021. She is originally from Waynesboro but has lived in Charlottesville for the past 11 years. She began sewing when she was 18 years old. Andrea started quilting in 2020 and has now made many beautiful quilts. When not working or quilting she enjoys gardening and playing with her dog and 4 cats.
Robin received her first sewing machine at the age of twelve and learned basic skills from her mother and grandmother. This knowledge came in handy while raising her four children, doing special projects such as making curtains for the house, and creating Halloween costumes for the kids. Robin bought her first Bernina 15 years ago and took classes to learn to quilt. She now owns four Berninas, teaches quilting and has worked at Cottonwood for over12 years.