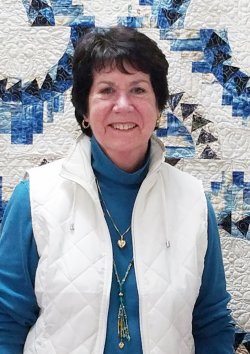 Shop Owner Mary began hand embroidery projects at age 5, and made her first quilt at 12. She comes by it naturally, learning from her mother, Helen, who was an avid weaver, appliquer and bobbin-lace maker. Mary lives with her husband of 37 years, Buddy, in Lake Monticello outside of Charlottesville.
Marilyn has the longest time on staff. She loves teaching, and her specialty is totes. Her students leave well-pleased and with a new friend! She enjoys sewing for friends and family, and donates many items to The Arc of the Piedmont and Area 3 Special Olympics for fundraising events.
Nola returned from "a 3 year retirement" after having been many years on staff. Her earliest memory of using a sewing machine was hemming flannel squares for a new baby in the house - at the age of 5! She made her first quilt in college in 1973. She lives in southern Albemarle County with her husband, horses, dogs - and llamas.