Skip Navigation
Website Accessibility
Marilyn has the longest time on staff. She loves teaching, and her specialty is totes. Her students leave well-pleased and with a new friend! She enjoys sewing for friends and family, and donates many items to The Arc of the Piedmont and Area 3 Special Olympics for fundraising events.
Robyn Fogler is a Certified Burda Style Instructor with the American Sewing Guild. Her grandmother and mother taught her to sew as a child, sparking the desire to create with her hands. She sewed clothing for her children, friends and her home, and even made a wedding dress for one of her daughters. Robyn is the leader of the ASG's Richmond Virginia Chapter, Neighborhood Group Kids Sew Too. Robyn can be reached at robynsewsthisandthat@gmail.com.
Nola returned from "a 3 year retirement" after having been many years on staff. Her earliest memory of using a sewing machine was hemming flannel squares for a new baby in the house - at the age of 5! She made her first quilt in college in 1973. She lives in southern Albemarle County with her husband, horses, dogs - and llamas.
Robin received her first sewing machine at the age of twelve and learned basic skills from her mother and grandmother. This knowledge came in handy while raising her four children, doing special projects such as making curtains for the house and creating Halloween costumes for the kids. When her youngest two children went to college thirteen years ago and left her with an empty nest, she bought her first Bernina at Cottonwood and took classes to learn to quilt. She now owns four Berninas, teaches quilting, and has worked at Cottonwood for over ten years! Her closest circle of friends are quilters and she loves working with her Cottonwood team to serve our customers, guide new quilting enthusiasts, make new friends, and socialize with old ones!
Nancy has enjoyed sewing since she was introduced to it in middle school. With an interest in architecture and working for a paint company for over 30 years, quilting became a great hobby when she retired and moved home from New Jersey. After taking many classes at Cottonwood, building her skills, she began sharing her passion by designing mystery Block of the Month quilts and teaching at Cottonwood!

Michelle grew up in Northern Albemarle where she now resides with her husband and three children. She has a collection of antique and vintage sewing machines of all makes! One of her favorite things about working at Cottonwood is meeting different customers and helping select fabric. 2021 brought new opportunities and Michele has now completed the Tech program and is a member of our Tech Team!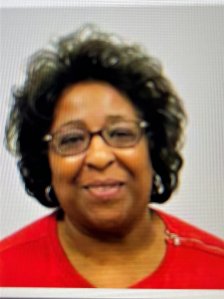 Venitta McCall

Spotsylvania, VA
vmccall.bernina@gmail.com
Venitta received her first BERNINA, the 801 Sport in
1979, when she experienced garment sewing using
the Stretch and Sew method. She now teaches
BERNINA Embroidery Software classes, as well as
many classes on BERNINA sewing and embroidery
machines.
She has enjoyed working with BERNINA dealers and
their customers for over 20 years and has worked
extensively with all BERNINA software products,
machine embroidery and stitch manipulation techniques.
She is an accredited Jenny Haskins Tutor and a
certified Hoopsisters instructor.